Coronavirus Guidance
Updated 1st March 2022
For full information you can read the Government 'What parents and carers need to know about early years providers, schools and colleges' web page. However, we will summarise and provide links to the most important guidance on this page.
If you need to tell us about a positive Covid test, please e-mail using the covid@stnicolas.brighton-hove.sch.uk address. This is monitored over the weekend and in the evenings by a rota of staff.
Do you need to isolate if you have Covid?
Yes. Though it is no longer the law that you isolate if you have Covid symptoms, it is still public health advice that you isolate if you have Covid.
See the NHS Website for the most up to date information.
'Do not go to work, school or public places...'
The NHS website says that you should isolate if you develop classic COVID symptoms and book a PCR test. If that comes back positive you should isolate for 10 days but can come out of isolate on after 5 days if you have two negative LFD tests, 24 hours apart. So, you can take an LFD test on the morning of the 5th day and again on the morning of day 6.
You should also isolate if you test positive on a LFD test. It is no longer necessary to book a PCR test to confirm a positive LFD test.
The day your symptoms start, or that you test positive if you have no symptoms, is day 0.
The isolation and release guidance is on this Government web page.
There is advice about what to do if you need to leave your house while infectious.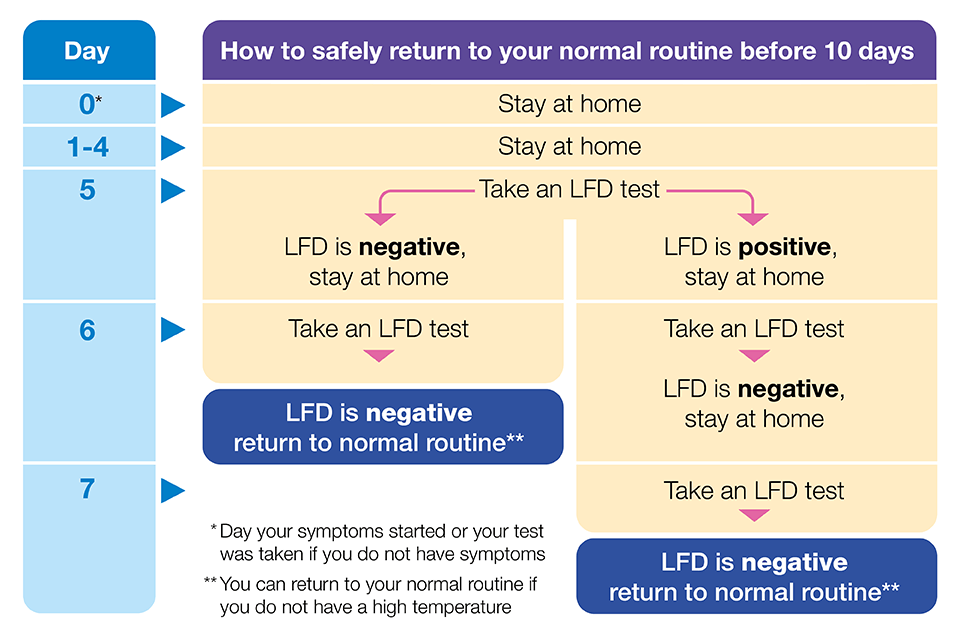 The guidance for families says 'If you insist on your child attending nursery, school, or college when they have symptoms, they can take the decision to refuse your child if, in their reasonable judgement, it is necessary to protect other pupils and staff from possible infection with COVID-19'.
Tests: Get tested for coronavirus
According to the NHS website, you should:
Get a PCR test as soon as possible if you have any of these symptoms, even if mild:
a high temperature
a new, continuous cough
a loss or change to your sense of smell or taste
Other Symptoms
The Government have not updated the list of Covid symptoms that they recognise despite there being strong evidence that the 'classic' symptoms are no longer the most common. The ZOE Covid Study publishes a list the the top 5 symptoms for different groups of people. They include:
Runny nose
Headache
Sneezing
Sore throat
Persistent cough
The full list of symptoms are listed here.
If you have these symptoms, our advice is for you to use LFD tests, though this is not the current Government advice.
Contact Tracing & Close Contacts
Contact tracing by 'NHS Test & Trace' is no longer happening.
The guidance no longer asks close contacts to use LFD tests to find asymptomatic cases. It also says that 'Children and young people who usually attend an education or childcare setting and who live with someone who has COVID-19 should continue to attend the setting as normal.'
Our experience is that it is very common for Covid to spread within households and within classes at school, especially for children who sit on the same table. We will continue to keep families informed of cases in your child's class and will let you know if we think they have been a close contact. In either case, we ask you to be extra aware of any possible Covid symptoms. If in doubt, we ask that you use LFD tests, despite this no longer being Government advice.
Face Coverings
In England, face coverings are no longer required by law. The government suggests that you continue to wear a face covering in crowded and enclosed spaces where you may come into contact with other people you do not normally meet.
However, the schools guidance now says: 'face coverings are no longer advised for pupils, staff and visitors in classrooms and communal areas'.
While cases remain high, or when we have outbreaks, we think that asking visitors to wear face coverings while in communal and crowded parts of the building is a sensible precaution.
All staff and children are welcome to wear face coverings should they choose.
New research insight: when to take LFTs
Added Friday 4th March 2022: The following is copied from an update e-mail from the ZOE Covid Study
With access to free lateral flow tests ending from the 1st April in England, we wanted to share with you some valuable insights from our recent research to help you make the most of testing. Our scientists recently analysed the length of time it took for people to test negative, following their first positive test. We found that, on average, it took 8 days after the first positive test to log a negative test.
What can we learn from these findings?
Have some LFTs at home ready so you can test as soon as symptoms start. You don't want to be out and about looking for test kits while symptomatic
Use a LFT on the day that you start experiencing symptoms
If you log a positive test, wait 6 days to retest as it's unlikely that you'll test negative before then
Those aged 75 and over could wait up to 10 days to retest as our research suggests that those in this age bracket may take longer to recover
If your test is negative, test again the next day
Keep logging your test results (positive and negative) in the app so we can continue to track COVID